Do you remember last year when we examined the Near East and North Africa region and the potential problems that the region could face with a changing climate? This region is characterized by the Arid desert hot (BWh) Koppen-Geiger climate classification*.  A BWh classification is one where the mean annual temperature is greater than or equal to 18 °C and is too dry to support most plants.  With this climate classification, the region is extremely sensitive to shifts in climate.   This means that even small changes in climate, especially with regards to precipitation, can have dramatic effects on water scarcity.
Water scarcity occurs when the demand for freshwater exceeds the supply.  The factors that help identify the region as  BWh point to a region which relies strongly on water that comes from rivers to supply both drinking water as well as water for irrigation.  It is estimated that by 2030, the entire Near East and North Africa Region will be experiencing water scarcity (as shown by the red in the map below). 

Caption: Water scarcity in 2030, image from cropscience.org.au
Reliance on freshwater from rivers in the Near East and North Africa region has inspired the Food and Agriculture Organization of the United Nations to launch a regional initiative to address water scarcity.  The Near East and North Africa Land & Water Days will take place in December 2013. The purpose of this event is to bring together policy makers, practitioners, donors and researches to share and learn together new and effective ways to enhance land and water use practices. Sessions at the event will discuss land and water management and technologies, such as drip irrigation.
Summits such as this one are important because they bring many different types of people together to discuss the climate and how to avoid water scarcity collectively. Members of the GLOBE community are involved in this too.  For example, students from the Yamama School in Saudi Arabia demonstrated how they work together in their Earth Day video competition earlier this year.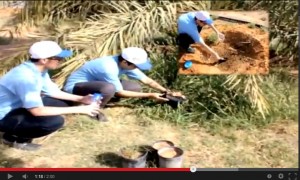 The students used GLOBE protocols to identify the suitability of their drinking water and soil for growing crops and then provided local farmers with information on how to improve their agricultural yield.  Students are asked to visit farms and carry out research applications.
They hope that through these practices they can spread environmental awareness among their society.  For more information on how GLOBE students work together to learn about their environment and act as stewards in their community, see the entire collection of Earth Day videos.
Suggested activity: Get involved in collecting data in your local area! Collecting any of the GLOBE atmosphere protocols is a great start to understanding your local climate better.  By collecting data and entering them into the GLOBE database, you can begin your observational record that you can watch change through the years.  Have you noticed anything that's changed already?  We'd love to hear about it!  Leave us a comment, send us an email or let us know about it on our Facebook Page!
* The Köppen-Geiger Climate Classification is one of the most widely used classification systems for determining climate. It was developed by climatologist Wladimir Köppen , later modified by climatologist Rudolf Geiger in collaboration with Köppen. To learn more about how your area is classified, see the "What is Your Climate Classification?" Learning activity.